Linda Gallery
Linda Gallery was founded in 1990 by Ms. Linda Ma with the first Linda Gallery established in Jakarta in 1990, followed by Linda Gallery Singapore in 1998 and subsequent venture into Beijing in 2005 with the setting up of her flagship Linda Gallery in the prestigious 798 art district.

With the practice of over more than two decades, Linda gallery has made it its mission to continuously strive to provide art collectors, from all around the world, with premium quality Asian and Southeast Asian Contemporary artworks. Linda Gallery serves as a communicative platform and commercial distributor for both art collectors and artists. It is in Linda gallery's philosophy that it always deals with its customers and artists professionally, with utmost efficiency and sincerity.

Linda Gallery has achieved its growth and expansion by establishing branches in both Asia and Southeast Asia, specifically in Beijing and Singapore. The gallery has represented a numerous number of internationally outstanding and renowned Contemporary artists deriving from countries such as Indonesia, China, and Thailand.

Several of the artists represented by Linda Gallery, including Chinese artists: Liu Kuosung, Chen Liu, Chen Shuzhong, Cai Zhisong, Guo Jin, Jiang Shuo, Wu Shaoxiang, Sui Jianguo, Sun Liang, Shang Yang, Xia Xiaowan, Xiao Hong, Xue Song, Ye Yongqing, Yu Fan, Zhu Wei, Zhang Linhai, Zang Kunkun, Li Shan, Li Zhanyang, Cai Lei, Astari Rasjid, Basuki Prahoro, Srihadi Soedarsono, S.P. Hidayat, Rearngsak Boonyavanishkul.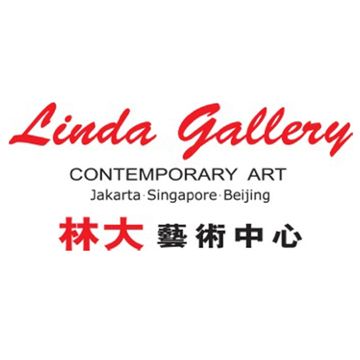 精选
Moon's Metamorphosis
Liu Kuosung 月之蜕变 Moon's Metamorphosis 2013 72.1 x 99.7 cm
"Artist: Liu Kuosung, Dimension:72.1x99.7cm, Year:2013, Literature: Liu Kuosung Asian Touring Exhibition (Provence of 4 exhibiting Museums namely History Museum in Taiwan, MOCA@Loewen in Singapore, Nasional Museum in Jakarta and MOCA Bangkok.
Renowned as the father of modern ink painting and a pioneer in modern Chinese painting, 83 years old Liu Kuo-Sung is the greatest artist of our era. Born in 1932 in China and moved to Taiwan in 1949, Liu Kuo Sung did his study of fine art at Taiwan Normal University. Chinese Contemporary art master Chu Teh-Chun was the first to discover Liu Kuo-sungês exceptional talent in art during Chuês teaching in the university on western painting. He graduated in 1956 and established the –Fifth Moon Painting Society" in the same year whereby he was the principle founder.
Liu Kuo Sung has dedicated his life to the exploration and invention of non-traditional ink painting techniques, challenging the convention of contemporary ink painting and promoting its growth, raising ink painting to a new level in contemporary times. He incorporated western art concepts and techniques successfully placing ink painting on the path to modern innovation. Liu Kuo Sungês richly expressive artistic language, heavily influenced by Confucian, Buddhist and Daoist philosophy , places great emphasis on the balance between man and nature.
Throughout his career, Liu has been constantly experimenting with various painting techniques and to explore abstract forms to create an artistic style that is at once both oriental and modern. For half a century, Lou Kuo Sung has made great contributions to modern ink painting with influences spanning from Taiwan to Korea, Japan, Southeast Asia and China, revolutionising changes and development in the oriental system of painting.
Through Liuês distinct and unique personal style of abstract expressionism, he has firmly secured his place as one of the 4 great masters (Zao Wou Ki, Chu Teh Chun , Wu Guang Zhong and Liu Kuo-sung ) of modern Chinese art history. In Liuês illustrious career as an acclaimed artist, he has held over eighty solo exhibitions at art museum around the world, participated in more than a hundred exhibitions with his works collected by many prestigious museums and important collectors internationally."
查看更多