Bel & Bel
Bel & Bel is a studio-workshop founded in 2005 by us the artists and designers Carles Bel and Jesus Bel. We both graduated in Fine Arts from the University of Barcelona and soon realized that we were united by more things besides the name. We were no longer able to separate this curious coincidence from our surnames and we decided to incorporate it to our common project.
Our project began with the readjustment of old objects into functional ones and increasingly we were watching the final designs and projecting them into more innovative, more technological and customized personal pieces. Following this philosophy and after ten years we have managed to declare Bel & Bel as a designer brand for unique and limited pieces with a very recognisable style. Our works has been included in international exhibitions of Art and Design and published in the mass media. This expansion has made Bel & Bel a well known worldwide firm. A brand associated with the high "supra-recycling" standards.
Our workshop / studio / showroom is located in Barcelona in a farmhouse from the seventeenth century. After a deep rehabilitation process has become a creative and versatile space where we develop our creations. Since the opening we tried our study to be a meeting point with other artists, filmmakers, musicians or designers with whom we could discover commonalities, with the aim of collaborate and share different projects.

In 2015, thanks to our growing interest in the broadest spectrum of our pieces, we moved forward and decided to collaborate with two good friends, Sebastian Perez & Roger Amat. They have helped us to turn Bel & Bel into a brand with higher productive potential.

THE TEAM
Carles Bel – Co-funder artist
Jesus Bel – Co-funder artist
Sebastian – Engineering
Roger Amat – Graphic design

FILOSOFIA
Our initial decision to work with waste materials was born of a ecological thought: the recycling.
We are surrounded by objects falling into disuse. Everyone is cleared from what is no longer interested and what is making them bored (if planned obsolescence not do it before…). We also believe that some design lines remain the same or greater value than the current ones. And can be given a new use, a more artistic and durable new life.
We believe in making solid pieces and unique designs that endure over time, as opposed to the current mass production. We support responsible production. We trust our parts as they are some of the designs from the past we admire, as the legendary motorcycle Corradino D'Ascanio or our beloved SEAT 600, which somehow were built to last lifetime.

Our artistic production aims to draw attention to the so-called planned obsolescence. A result of modernity and towards which we position totally contrary .
Thus, we can speak of "creative recycling" or "upcycling" where the principle of the three "R" (Reduce, Reuse, Recycle) applies, but now using the latest technology and renewable energy.
In Bel & Bel we are creative and contemporary artists. We observe, live and adapt art and technology surrounding us.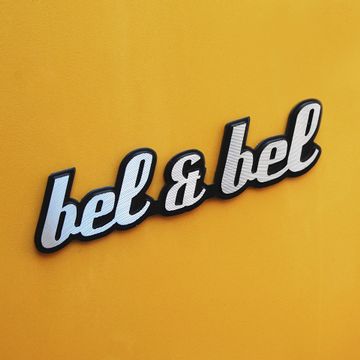 Spain
| | |
| --- | --- |
| | Carrer Sant Joan, 8 – 08840 Viladecans Barcelona Spain |
| | 查看地图 |