Normandy
We are specialized since 1988 in nautical antiques, diving helmets and ship's old furniture. We are buying these items directly in the largest Asian shipbreaking yards.
We have clients worldwide and are used to pack and ship worldwide.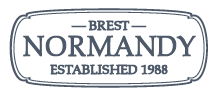 精选
LINER'S TABLE
Rare table from the Imperial Majesty Cruise Line's REGAL EMPRESS ex OLYMPIA built by Alexander Stephen and Sons Ltd., Glasgow, launched in 1953 (see the extra photos). This tables are in mahogany .
L 225 / W 80 / H 77 cm, base 47 / 47 cm
查看更多