Pleyel Piano
MASTERS OF INSTRUMENT MAKING

The Pleyel brand is the masterpiece of the accomplished musician, inventor of genius, talent-spotter, generous sponsor and daring publisher, Ignaz Pleyel (1757-1831).

First a student and then a friend of Haydn, Pleyel was a renowned musician and composer from the late eighteenth century onwards with 41 symphonies and 70 quartets, quintets and operas to his name. After settling in Paris in 1795, he opened his first music store and, in a pioneering move, published the first popular collections of pocket music books.

Eager to develop instruments to match the changing demands of the composers and artists of his day, Ignaz Pleyel founded in 1807 the 'Pleyel Manufacturing Plant' which has been devoted to this activity ever since.

At his death in 1831, Pleyel had become an established supplier to the Empress Josephine and all the European courts. He exported pianos to Europe, North and South America and the Far East. His son, Camille, a great pianist, took over at the helm and brought tremendous impetus to the family business. It was under his direction that Pleyel acquired its international reputation.

At the height of the Romantic Period, Camille opened his famous 'salons', the acme of Paris musical life at the time, where large numbers of virtuosos and famous composers were heard for the first time

His successors played a significant role in strengthening and broadening the activities of the Pleyel brand. Firstly, Augustus Wolff (from 1855) who introduced numerous innovations improving the reliability and robustness of the company's pianos, creating new models such as the upright piano and Gustave Lyon, who took over in 1887, a distinguished engineer and pioneer in architectural acoustics.

In 1885, the business developed and modernised with the creation of the Saint-Denis Manufacturing Plant, extending over 55.000 m².

By opening the Salle Pleyel on the rue du Faubourg Saint Honoré in Paris in 1927, Gustave Lyon was continuing a long tradition of love of music and fine instruments. Dedicated to all forms of artistic expression, this was the era's first (indeed the world's first) holistic arts centre. Within this new space, boasting the best working and interpretation conditions available at the time, the spirit of the famous Pleyel salons took on a new dimension.

Production was then moved to Germany for twenty-five years before being restored to France in Alès (Gard) in 1996.

Since it was established, Pleyel has surrounded itself with the greatest artists, musicians and composers. Their love of music and their passion for fine instruments inspired Ignaz Pleyel in the design and manufacture of his pianos. Always attentive to his contemporaries and eager to satisfy their artistic requirements, Camille Pleyel, in turn, continued to perfect the instruments.

Driven by a taste for musical innovation and discovery, Camille was a gifted talent spotter. It was he that 'launched' Chopin's career in 1832 with a concert in his salons. The two men became friends and Pleyel became Chopin's official piano supplier. Chopin performed all his Parisian public concerts in Pleyel salons and played his last concert to a packed house, a few months before his death in 1849.

Other musicians have hitched their talents to the Pleyel name: Liszt, Thalberg, Franck, Debussy, Grieg, Ravel, De Falla, Stravinsky etc.

Created by a passionate musician, Pleyel has continued over time to interact with artists by involving them in its innovations. Often at the forefront of innovation in their day, the pianos they designed have since become classics.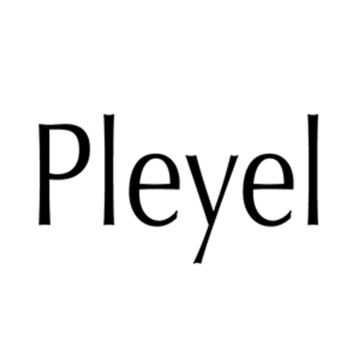 Featured
The piano Pleyel P204 - Grand piano
The piano P204 :
Heir of the mythical n°3 model played by Alfred Cortot, Plantié and so on…
Sound design by the French pianomaker Stephen Paulello and the Pleyel design studio to give to the characteristic colourful tone of a Pleyel Piano a contemporary feel while remaining faithful to the acoustic identity established ever since 1807. This grand piano empowers the most demanding pianists, whilst guaranteeing all the standard of qualities and comfort expected of a concert piano.
Features : Black blue satin lacquer • Cast-­‐iron frame in silver metal colour • Brushed stainless steel fittings • Square/Round leg • Romantic lyre
Dimensions (cm) : Length 204 cm x width 156 cm x height 100 cm
Technical features: • Laukhuff keyboard – spruce keys • Back: laminated wood structure (reliability – long-­‐lasting) • Soundboard and ribs: solid spruce from Fiemme Valley, Ciresa • Renner action according to Pleyel specifications • High-­‐resistance metallic frame, computer optimized • Paulello strings • Beech multi-­‐layer pin-­‐block and Klinke tuning-­‐pins for exceptional tuning stability • Impregnated hammerheads to guarantee continuing acoustic performance • Castors – Lock – Sostenuto pedal • 88 notes, 7 octaves 1/3 • Wide music desk
Available immediately. Preparation delay prior to delivery : 3 to 4 months
A few words about Pleyel
PLEYEL, the oldest piano manufacturer in the world (since 1807) and the only one in France, is dedicated to produce high-end grand pianos and provides a rare, unique and contemporary design with a high quality of acoustics for people looking for refined music instruments, elegant Art de vivre, collector's pieces. All Pleyel pianos of the stock are 100% French made, entirely produced by Pleyel approved technicians and piano makers, involving more than twenty skills and crafts like : luthiery, cabinet working, varnish, precious veneers, marquetry, decor painting, lacquer and using the most innovative technologies. With more than 270.000 pianos produced, Pleyel remains the piano of Chopin, with a refined colourful tone. It is one of the 1,000 companies being awarded the French State label of Living Heritage Company. As an editor, Pleyelhas built up one of the rarest collection of pianos, requiring rare skills, designed by renown designers (Andrée Putman, Hilton McConnico, Michele De Lucchi, Peugeot Design Lab), visual artists (Marco Del Re, Aki Kuroda, Maarten Baas) and interior designers (Alberto Pinto, reedition of Jacques-Emile Ruhlmann). Each of these instruments are produced according to the 3 models of the Pleyel pianos Classic Range: from 1.70 meters to 2.04 meters length. Pleyelpianos are sold and delivered all over the world. We have the pleasure to present our collection of Designers and Artists' pianos AVAILABLE IMMEDIATELY. You need to take into account that 3 to 4 months of musical and cabinet-making preparation are required for each of these instruments prior to delivery. Our pianos are usually made on order.
As we only have one piece in stock for each design presented hereafter, the stock of these pianos can change everyday. Please contact us as soon as possible in order to confirm the availability of the piano and put an option on it.
View more