Parrot
Parrot is a high tech company located in Paris, France. A global leader in drone manufacturing and wireless devices.

Founded in 1994 by Henri Seydoux, Parrot creates, develops and markets advanced technology wireless products for consumers and professionals.

The company builds on a common technological expertise to innovate and develop in three primary markets:

-Automotive: With the most extensive range of hands-free communication and infotainment systems for vehicles on the market.

-Civil drones: With leisure quadricopters and solutions for professional use.

-Connected objects: With a focus in audio and gardening.

Headquartered in Paris, Parrot currently employs more than 900 people worldwide and generates the majority of its sales overseas.

Parrot has been listed on Euronext Paris since 2006. (FR0004038263 – PARROT)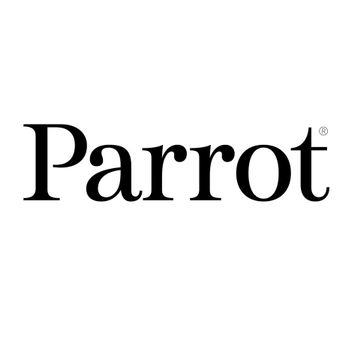 Featured
Parrot DISCO FPV
Enjoy an unprecedented flight experience The DISCO FPV combines all the latest high-tech essentials for exceptionally real flights. Discover the DISCO, the first smart flying wing to reach 80km/h. Immerse yourself in the vastness of the sky and see the world from a whole new angle with Parrot COCKPITGLASSES, the essential goggles for immersion flights. Lastly, for total control, pilot your wing with precision with the new Parrot Skycontroller 2. Take control!
FLY, SPIN, AND GLIDE WITHOUT STOPPING
With its aerodynamic design, streamlined look, fixed wings, light carbon and EPP (expanded polypropylene) body, the Parrot DISCO is naturally designed to fly like a plane. With the Parrot COCKPITGLASSES, discover FPV (First Person View) for fully immersive flights. Alternate between straight lines and turns, take the time to glide and enjoy the view, then pick up speed, dive down and climb back up. Experience extreme flight sensations.
CHANGE YOUR POINT OF VIEW
With Parrot COCKPITGLASSES, feel the ultimate immersive flying sensation. The Parrot DISCO drone comes with a 1080p Full HD front camera stabilised on 3 axes. Connected to the FreeFlight Pro application, just put your smartphone in the Parrot COCKPITGLASSES. It's as if you were flying: the skyline changes when you turn. Spread your wings and live out the most incredible flights!
FLY FASTER, FOR LONGER
With the Parrot DISCO, reach 80km/h in flight with its powerful motor and enjoy the experience for longer – a high-capacity battery guarantees you up to 45 minutes of battery life. Piloted from the new Parrot Skycontroller 2, it has an optimised secure Wi-Fi connection, with live video feedback on your smartphone with the FreeFlight Pro app. More than ever before, the sky is yours. How far will you go?
PILOT EASILY AND PRECISELY.
With the Parrot SKYCONTROLLER 2, use two joysticks for an ultra-precise piloting experience and fly your Parrot DISCO up to 2 km away! Take off and land with a single click. Head off on adventures and return to the starting point on autopilot, or play with altitudes and speeds – stability is guaranteed with the anti-stall system. Change directions, film long scenes thanks to 32 GB of internal memory and modify control settings – you're in control of some truly intense flights.
1 Parrot Disco: fixed-wing drone 1 High-capacity battery: 2700mAh 1 Charger + cable 1 USB cable 1 User guide 2 Additional propeller glades 1 Parrot Skycontroller 2 1 Removable mount for smartphone or tablet 1 USB cable 1 Charger + cable 1 Parrot Cockpitglasses 1 Strap 1 Smartphone drawer
View more