Premium classic cars
Welcome to Premium Classic Cars, where a personal and professional service is guaranteed. As an independent classic car company based in Suffolk we specialise in buying and selling the finest cars.

Each car is vetted personally and HPI Checked a certificate can be provided on request. In setting up this business our strategy was clear, to bring some of the best drivers cars, to our customers, via a site that is easy to find, and easy to use. But above all else to use our expertise in finding cars that have correct history, outstanding condition combined with a specification that means they can stand scrutiny in justifying the "Wow Factor" for future owners.

Our site has some unique features! Please note you can request both specification and images online, this will be emailed with the image as a Jpeg making research into a possible purchase a little easier. For visitors to our site considering Consigning a car Unique features built into the construction of this dedicated site guarantee worldwide visibility for your specific car. With optimisation for the key internet search engines second to none. This combined with an evolving list of cars wanted, by both the "trade" and "individuals", often makes the Premium Classic Cars Company, the premium choice to bring about the accelerated sale of your car.

All too often the Passion evident with owners is missing in a business. If consigning a car for sale, we believe a customer should be able to expect our enthusiasm & knowledge to make a real difference in selling a car quickly on their behalf.
Likewise our customers should expect our enthusiasm and knowledge of cars for sale to include views on how best to enjoy the cars on the ever increasing events in Europe, and be sure we will facilitate choosing the right classic car for them. The sympathetic upgrading with , items such as trip meters, electronic ignition, extra lights, harnesses etc all being available in readiness often to be on the car when 1st collected.

Cars are detailed and prepared to offer the best value for any given car at any time. All cars are fully appraised before being committed for sale. This business was part born from a deep routed view that the buying of a Classic Car should be an uplifting experience. Here at Premium Classic Cars, these core values are especially alive and well. We look forward to talk to you regarding any aspect of buying, enjoying and selling Classic cars.

Phil Dunmore
From childhood Camshafts, Throttles and Borrani Wire wheels have been present in my DNA! A passion for Driving developed very early, unfortunately a little before the wisdom of listening to those who know what they were doing! Opposite lock – a wonderful discovery! A period Racing in Europe & the US in the late 70's was followed by a settled period in business life, and the arrival of a family.

My love of sports cars fuelled a journey to rounds of the Ferrari Challenge via Club Fiorano. Commuting to some of the Worlds finest Circuits, Spa, Dijon and the Nuerburgring became regular trips, racking up over 30,000 miles at the wheel of an F40, before realising my passion had moved its centre of focus to Classic & Historic Competition cars. Years followed attending auctions and motorsport events around the World. Including the Mille Miglia from Brescia fuelling a passion now deep routed, to drive more of these wonderful cars.

Phil's love of cars does not stop as the engine is turned off ! A passion for Detail combined with his love of getting any car absolutely right, means Phil is very often to be found burning the midnight oil preparing & detailing cars for future owners,who marvel at the condition in which all Premium Classic Cars are sold. Major mechanical works are undertaken by Atspeed Racing in Rayleigh ( Essex ), for whom the meticulous preparation of historic and classic cars for the rigours of motorsport, is everyday business.

Each and every car is prepared with a new MOT Certificate for sale so as to be absolutely ready for extended use by any new owner. Reliability is a bye-word when considering the enjoyment of choosing a Classic car from Premium Classic Cars

Martina Engels Dunmore
Martina has worked closely with the World's most collectable Classic cars since the early 1990's. Working with one of the most ambitious Collectors in Germany, she travelled throughout Europe, researching and acquiring a large Portfolio of post war classics. Attending the Worlds auctions, and enjoying an ever closer familiarity with some of the biggest Classic car Dealers in Germany.

The project management of multiple restoration projects, which tests both coordination and sourcing skills considerably, are key strengths for Martina. Fluent in German, English and Dutch, with the ability to converse in Italian and Russian, Tina is able to bring both Customers and Suppliers together more readily than most!

Born in Frankfurt, and a Graduate in Design, a unique flare for style, has seen a passion for photography and Classic cars combine. Martina is the encyclopaedia for esoteric information of every type, in connection with Classic Cars but has an exceptional background with classic Porsche, and a fantastic network of contacts across Europe on whom she can rely for assistance.

She has a daughter, who at eleven years old, has her father's passion for driving, inevitably mother has succumbed and expects to have a regular place on many of Europe's most challenging regularity events.

When calling the office number it is Martina most likely to answer the call.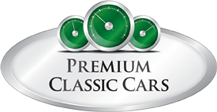 This user has not yet list an item.