Premium classic cars
Welcome to Premium Classic Cars, where a personal and professional service is guaranteed. As an independent classic car company based in Suffolk we specialise in buying and selling the finest cars.

Each car is vetted personally and HPI Checked a certificate can be provided on request. In setting up this business our strategy was clear, to bring some of the best drivers cars, to our customers, via a site that is easy to find, and easy to use. But above all else to use our expertise in finding cars that have correct history, outstanding condition combined with a specification that means they can stand scrutiny in justifying the "Wow Factor" for future owners.

Our site has some unique features! Please note you can request both specification and images online, this will be emailed with the image as a Jpeg making research into a possible purchase a little easier. For visitors to our site considering Consigning a car Unique features built into the construction of this dedicated site guarantee worldwide visibility for your specific car. With optimisation for the key internet search engines second to none. This combined with an evolving list of cars wanted, by both the "trade" and "individuals", often makes the Premium Classic Cars Company, the premium choice to bring about the accelerated sale of your car.

All too often the Passion evident with owners is missing in a business. If consigning a car for sale, we believe a customer should be able to expect our enthusiasm & knowledge to make a real difference in selling a car quickly on their behalf.
Likewise our customers should expect our enthusiasm and knowledge of cars for sale to include views on how best to enjoy the cars on the ever increasing events in Europe, and be sure we will facilitate choosing the right classic car for them. The sympathetic upgrading with , items such as trip meters, electronic ignition, extra lights, harnesses etc all being available in readiness often to be on the car when 1st collected.

Cars are detailed and prepared to offer the best value for any given car at any time. All cars are fully appraised before being committed for sale. This business was part born from a deep routed view that the buying of a Classic Car should be an uplifting experience. Here at Premium Classic Cars, these core values are especially alive and well. We look forward to talk to you regarding any aspect of buying, enjoying and selling Classic cars.

Phil Dunmore
From childhood Camshafts, Throttles and Borrani Wire wheels have been present in my DNA! A passion for Driving developed very early, unfortunately a little before the wisdom of listening to those who know what they were doing! Opposite lock – a wonderful discovery! A period Racing in Europe & the US in the late 70's was followed by a settled period in business life, and the arrival of a family.

My love of sports cars fuelled a journey to rounds of the Ferrari Challenge via Club Fiorano. Commuting to some of the Worlds finest Circuits, Spa, Dijon and the Nuerburgring became regular trips, racking up over 30,000 miles at the wheel of an F40, before realising my passion had moved its centre of focus to Classic & Historic Competition cars. Years followed attending auctions and motorsport events around the World. Including the Mille Miglia from Brescia fuelling a passion now deep routed, to drive more of these wonderful cars.

Phil's love of cars does not stop as the engine is turned off ! A passion for Detail combined with his love of getting any car absolutely right, means Phil is very often to be found burning the midnight oil preparing & detailing cars for future owners,who marvel at the condition in which all Premium Classic Cars are sold. Major mechanical works are undertaken by Atspeed Racing in Rayleigh ( Essex ), for whom the meticulous preparation of historic and classic cars for the rigours of motorsport, is everyday business.

Each and every car is prepared with a new MOT Certificate for sale so as to be absolutely ready for extended use by any new owner. Reliability is a bye-word when considering the enjoyment of choosing a Classic car from Premium Classic Cars

Martina Engels Dunmore
Martina has worked closely with the World's most collectable Classic cars since the early 1990's. Working with one of the most ambitious Collectors in Germany, she travelled throughout Europe, researching and acquiring a large Portfolio of post war classics. Attending the Worlds auctions, and enjoying an ever closer familiarity with some of the biggest Classic car Dealers in Germany.

The project management of multiple restoration projects, which tests both coordination and sourcing skills considerably, are key strengths for Martina. Fluent in German, English and Dutch, with the ability to converse in Italian and Russian, Tina is able to bring both Customers and Suppliers together more readily than most!

Born in Frankfurt, and a Graduate in Design, a unique flare for style, has seen a passion for photography and Classic cars combine. Martina is the encyclopaedia for esoteric information of every type, in connection with Classic Cars but has an exceptional background with classic Porsche, and a fantastic network of contacts across Europe on whom she can rely for assistance.

She has a daughter, who at eleven years old, has her father's passion for driving, inevitably mother has succumbed and expects to have a regular place on many of Europe's most challenging regularity events.

When calling the office number it is Martina most likely to answer the call.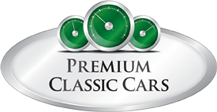 Featured
1960 Maserati Tipo 61
The Maserati Tipo 60/61 "Birdcage" is a light and powerful sports racer produced in 1959-1960 that exhibits superb aerodynamics. It has a great power to weight ratio, with a perfect 50/50 weight distribution front-to-back, independent front suspension, 4-wheel disc brakes, De Dion tube in front of a 5-speed transaxl made of electron which is a special aluminum alloy. The nickname "Birdcage" is due to the intricate, tubular frame and chassis made up of approximately 200 small-diameter, chrome-molybdenum steel tubes of varying lengths and thicknesses welded together with a unique and highly guarded Italian process. This design was engineered by Giulio Alfieri in 5 different models, the most popular being the Tipo 60 and the Tipo 61.
The Tipo 60 has a 2-litre, four-cylinder engine of 240hp, weighed 570kg, and had a maximum speed of 165mph. The Maserati "Birdcage" Tipo 60 and 61 sports racing cars were owned and favored by such legendary racers as Stirling Moss, Carroll Shelby, Dan Gurney, Lucky Casner, Alan Connell, Jim Hall, Roger Penske, Walt Hansgen, Briggs Cunningham, Lloyd Katskee, and Dave Causey.
Many of these drivers are quoted as saying very positive things about this car, including:
Sir Stirling Moss: The most famous race car driver of all time. "A fabulous car-light, very nimble, fantastic brakes, super steering, enormous torque, and good power."
Carroll Shelby: Racing icon and famous builder of Shelby cars. "The best handling car I've ever driven. Easy to go fast, to corner, and does not seem to be working hard at top speed."
_Dan Gurney: Race Icon, Team Owner and Designer. "Great balance, the car is perfectly sprung and the brakes are just right for its weight and power. The adhesion to the track is just fabulous."_
Its reputation on the track and amongst the popular drivers of the day makes the Maserati Birdcage one of the most recognizable and popular sports racing cars of its time.
2459 History Overview
Maserati Tipo 61 Chassis #2459 was built for Briggs Cunningham and prepared for racing by Alfred Momo. 2459 was primarily driven by two-time SCCA Driver of the Year Walt Hansgen with Dr. Dick Thompson and Augie Pabst also driving. Under Hansgen, Thompson, and Pabst Birdcage #2459 achieved four wins and one finish each for second, third, and fourth place in 1960 and 1961. In 1962, Birdcage 2459 was taken to Daytona to compete in the first 3-hour Continental on February 11 with Augie Pabst as the driver. After 2 years of success, Maserati Tipo 61-2459 had an accident during a practice run for this event. Pabst walked away from the accident with cuts, bruises, and a few broken ribs, while the damaged 2459 was taken back to Momo's shop in New York. Momo decided not to restore the car and instead dismantled it and sent it to England for potential use on Maserati Tipo 60 and 61 Birdcages. It wouldn't be until many years later that Maserati "Birdcage" Tipo 61 Chassis #2459 began restoration under a distinguished, but anonymous, Italian collector.
2459 Restoration
The restoration of the Maserati Tipo 61-2459 "Birdcage" began in 2007 in Modena, Italy-home of the Maserati factory. An Italian collector spent years painstakingly collecting original Maserati birdcage parts for 2459 before even beginning the restoration. Then Italian professional welders rebuilt chassis using the same secret welding processes and small diameter chrome-molybdenum steel tubes that were unique to the production of the birdcages in the 1960′s.
The original parts the Italian collector assembled for 2459 were mostly engine parts, and included an original cylinder head, lower crankcase and sump, cam covers, and transaxle tower (also known as a differential case) which included the cast numbers for the original birdcage parts used which verify the parts as original. Frank Tralli of Modena, Italy rebuilt the engine to original birdcage specifications from both these original parts and other parts manufactured according to the original drawings. He then Dyno'd the engine for racing which can be found in the Maserati Tipo 61-2459 Dyno Report.
The completed chassis and engine were then shipped to the Maserati restoration experts at Steve Hart Racing in England. In completing the restoration, Steve Hart added additional original Birdcage parts including rear lights, repeater lights, rev counter, ignition switch (also known as the light switch), starter button, indicator switch (also known as turn signal), and front hubs. This information is verified in a letter written and signed by Steve Hart.
The completely restored Maserati Tipo 61-2459 "Birdcage" was then submitted to the Motor Sports Associationin April 2010, who carried out an extensive inspection. The Maserati Tipo 61-2459 passed the inspection and the new owners were issued the Historic Technical Passport/FIA Class: TSRC4 Documents on August 27, 2010.
Recent Controversy
This article has been written to reveal the history of the Birdcage cars, a small but significant chapter in the world's automotive history. It came about as a consequence of nefarious rumours started about this particular vehicle by nameless third parties who had a commercial interest in seeing it discredited. We were asked to investigate the vehicle in as much depth as possible, in the 1960′s as well as in the present day, and in so doing a remarkable story unfolded.
Shortly after the restoration, 2459 was entrusted to a certain large auction house before it was withdrawn and handed to Mecum to sell at their third annual Monterey Auction. Infused with bitterness no doubt, the original auction house hired certain individuals to discredit the car. This resulted in a litany of libel and slander on various internet forums, automotive sites, and even online encyclopedias. Thanks to efforts of US Attorney-at-law Hank Schwaeble, those individuals responsible, as well as their employer, have settled out of court. Alas their slanderous scribing remain online such is the nature of the internet.
With literally reams of documentation charting everything from the restoration to the legal proceedings in our possession, combined with a significant amount of independent research, it is clear beyond doubt that the vehicle that we have personally seen and driven in Suffolk is indeed the Maserati Tipo 61, chassis 2459.
Not only is 2459 the genuine article, it is one of the most accurate and correct examples still in existence today, of which there are thought to be about sixteen. Everything from the forty-five degree angle of the engine to the gauges on the dashboard are original and genuine birdcage components. Even the colour is the correct shade of Rosso Red (of which there are countless pantone variations) with which it left the factory.
With the truth behind the vilification revealed, the far more interesting business of chronicling this car can begin - commencing with how Maserati came to be.
View more