Surfing Cowboys
Wayne and Donna Gunther are the creators and curators of an aesthetic movement that evolved during their years traveling the globe as fashion photographers and was encapsulated 20 years ago when they converted their former photo studio, located on Venice's Abbot Kinney Blvd, into their first Surfing Cowboys® retail location.

Not about labels or pretension their curation of merchandise is dictated by what they find themselves inspired by at any given moment.

They live deeply rooted in their personal aesthetic and experiences, using their life as a two-lane blacktop connecting the past with the present, in the now. Remembering where they've been so they know where they're going.

Surfing Cowboys® is their love child, born out of the love of life, beauty, freedom and expression. It embraces a state of mind and a universal feeling that extends to a far reaching community of supporters around the globe.
Surfing Cowboys® is commonly referred to as a go-to source to tap into authentic California culture, to purchase surf collectibles, functional design furnishings and accessories for both home and life. The business caters to collectors, designers and regular folk with both staff, Donna and Wayne offering consultations as needed.

Recognized as one of the foremost purveyors of vintage surf collectibles in the world Wayne & Donna curate and consult on acquisitions of all sizes, from a single vintage board to a whole quiver. As creative consultants they invite & participate on various projects, both commercial and residential, of all sizes.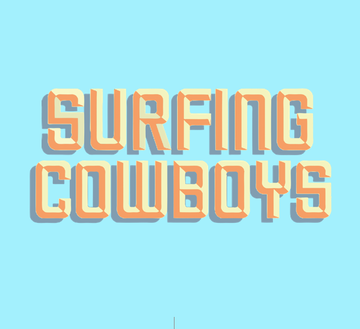 Featured
Ultra-Rare Illuminated Duke Kahanamoku Skateboard Point-Of-Sale Display, Sign
Very few of these point-of-purchase store display signs were ever made, making this a Classic and exceptionally rare piece of Duke Kahanamoku history. (During the 1960s Duke had both these skateboards licensed under his name.) The Campaign was extremely short lived, rumor has it that whilst some of the Kahanamoku clan were on board with the family name usage, others were not, resulting in a judicious withdrawal from the market by its investors. This resulted in only a handful of original examples surviving. Standing 18 inches tall and 14" wide, with an illuminated center depicting a great likeness of Duke himself and two miniature Duke skateboard decks attached to the sides this item looks great perched on a shelf or standing on a table. Made circa 1990.
Price does not include shipping. Please contact us for a shipping quote.
View more