Paul Madden Associates LLC
Paul Madden, is managing partner of Paul Madden Associates (Private-Yacht.net), a global yacht brokerage which offers yacht buyers access to extraordinary yacht purchase opportunities, plus expert guidance on the purchase of new yachts directly from the yacht builders.
Multi-lingual Associates are located throughout Europe, Middle East, Asia and the Americas, as well as in Africa. Paul Madden personally oversees all transactions and offers his expertise throughout the purchase process.
For the last 25-years, Paul Madden has worked in the upper echelon of the global ship and yacht manufacturing business, representing companies in US, Monaco, Mexico (Camper & Nicholsons), Germany (Blohm+Voss/ThyssenKrupp) and Italy (CRN/Ferretti). His expertise includes complex international brokerage transactions, new vessel construction (over €100 million), and marine asset finance.
Paul Madden received his MBA from Boston University's School of Management, Brussels Graduate Center in Belgium, and also has a Graduate Degree from The National Film & Television School of England.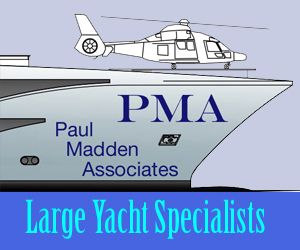 Featured
263' BLOHM+VOSS Mega-Yacht
Grand Ocean is currently undergoing a major re-fit with a new interior, paint and technical upgrades throughout the yacht. These works will be done in time for the Med season 2018.Grand Ocean is a legendary Blohm+Voss built yacht, originally named GOLDEN ODYSSEY. She was designed by Martin Francis with interior by Alberto Pinto. She is still the pinnacle of style and performance- with a cruising speed of 16 knots, a maximum speed of 18 knots and a range of 9,100 NM.
If you would like to discuss the purchase of a yacht, please contact me.
如果您想讨论购买游艇,请与我联系。
Cell(Whatsapp)+1 561 568 3430
PM@Private-Yacht.net
Spectacular views and the ability to transform the huge mosaic outdoor swimming pool into a dance floor. She is currently undergoing a re-fit with technical and systems upgrades. The interior is being re-styled and brought to "new" status.
The original owner was a keen diver and oceanographer and the yacht has a large live coral aquarium rising through two deck levels below a glass-bottomed swimming pool. A glass wall in the formal dining room also looks onto the aquarium. The updated guest accommodation features two double staterooms with dressing rooms, one double cabin and four twin cabins, all with en suite bathrooms. The large outdoor mosaic swimming pool can be transformed into a dance floor.
This vessel was maintained by Blohm+Voss in Hamburg throughout her life with regular shipyard re-fits and maintenance performed in Hamburg.
Building a double-deck aquarium with one side acting as a glass wall to a dining room and the top acting as a glass bottom to a swimming pool is no simple task. Blohm+Voss' engineers made it happen.
Blohm+Voss is now part of LURSSEN and continues to provide full support and service for all Blohm+Voss vessels.
Offers are invited. We will consider crypto-currency offers from the top 5 currencies.
View more
Featured
ICON 280
The stunning 84m superyacht, built by Icon Yachts in the Netherlands.
If you would like to discuss the purchase of a yacht, please contact me.
如果您想讨论购买游艇,请与我联系。
Paul Madden Cell(Whatsapp)+1 561 568 3430 PM@Private-Yacht.net*
Specifications
Builder: Icon Yachts
Length: 84.00m (275.59ft)
Beam: 13.5m (44.29ft)
Draft: 3.75m (12.3ft)
Flag: Cayman Islands
Displacement: 2148 tonnes
Cruising Speed: 12 knots
Maximum Speed: 15 knots
No. Of Guests: 14
No. Of Guest Cabins: 7
Crew: 28*
Offered in association with Globe Regal Yachts
View more