Koket
Letter from the Founder:

Love Happened with a simple sketch of a chair over cocktails in a New York City lounge. As the grace of the pen took to the paper my desire to possess this chair and create more pieces with the same empowerment became my mission.
Never has the time felt more right for me than now to create a brand that is truly a personal reflection of who I am. KOKET offers a glimpse into my world and everything that moves me. It is all of what I believe in, where I have been, and where I will take the brand will be closely tied to my personal growth.

I am comfortable taking risks —and often, turning heads and commanding attention. KOKET is not about design trends or fulfilling design voids. It is a highly edited collection—not just of pieces of furniture, but a collection filled with the experiences, simples pleasures, passions and life events that have shaped me.

Thru KOKET I will share ma joie de vivre and coquettish frill while empowering you to follow my lead and take risks to create your own sense of individual style—for yourself, your home and how you live.

Fall in love with KOKET & let me empower you thru my collection.

With all my love,
Janet

Daring design aesthetic, high impact shows, lavish presentations and the notoriously risqué ad campaigns, have an uncanny way of conveying KOKET's mission which is to create highly desirable empowering statement pieces.
- close -
The innate desire to seduce and entice its devotees is perfectly illustrated in the Guilty Pleasures & Exotic Opulence Collections. Composed of dramatic case goods, luscious upholstery, exquisite lighting and decadent furs; all of which will mesmerize with their magical mineral medley, lux metallics, vibrant jewel tones and exotic peacock feathers.

KOKET's savoire faire is intoxicating! The line is manufactured by master artisans and jewelers who leave no detail or element forgotten. KOKET's principal designers are a group of exceptionally artistic and well-rounded product designers who are led by Janet's creative eye and almost fanatic strive for perfection. The brand is managed by an elite staff of highly skilled individuals who strive to create moments of design seduction while seamlessly selling the collection worldwide through a selective network of interior designers and luxury retail stores.

The Brand
Noted for her dramatic & edgy design aesthetic, enticing personality and a strong love affair for life, Janet Morais is the driving force behind the seductive brand KOKET-Love Happens.

Born in New York, raised between Europe and the US, Janet's deep familiarity with the European culture and her multilingual command of four languages have uniquely positioned her at the center of the rapidly evolving international luxury brand market.

Janet's love affair with Paris, design and fashion led her to move to the captivating city of all things glamour. While living in Paris she immersed herself into the refined Parisian world and developed a highly trained eye for haute taste and a dead on instinct of trends to come and what people wanted.

The desire to create the brand KOKET stemmed from not only from Janet's devotion to design, but also the constant challenge of finding décor pieces that truly spoke to her during her 10+ years in the interior design world as Founder/Design Principal of the interior design firm DeMorais & Associates.
- close -
Thru her design firm Janet developed a loyal design following which gave her the confidence to create the ultimate expression of her character – KOKET. The name KOKET comes from Janet's nickname "Janette la coquette", a name given to her for her playful ways.

Since launching her own brand in 2010, Interior Designer Janet Morais has seduced the design industry with her sensuous designs. Highly influenced by the decorative arts, fashion, flora and fauna, Janet brings bold & daring creations to life. This unique sensibility is fueled by the designer's unique European sophistication, which she has nurtured since she was a child.

As an Interior Designer Janet creates perfectly curated interiors, as KOKET's Creative Director her mission is to create highly desirable and empowering statement pieces.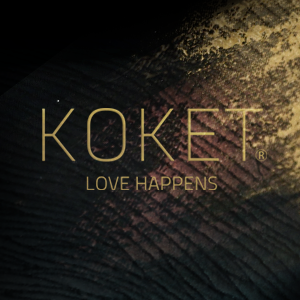 精選
GEISHA | CHAIR
Designed to perform in a matter that indulges the eyes the Geisha s curves grace a room with the extravagance and poise of a Kyoto Geisha. Fully upholstered tight back Sofa with soft tufting on the cushions. A polished brass band wraps the piece leading to a modern & sleek polished brass foot complimenting a fully upholstered black velvet structure.
DIMENSIONS
W. 72 cm / 28,1 in
D. 78 cm / 30,4 in
H. 78 cm / 30,4 in
Seat H. 46 cm / 18,1 in
Seat D. 51 cm / 20 in
WEIGHT
52 Kg / 114 Pounds
查看更多