Pop and Contemporary Fine Art
After several years at Palais Renaissance, Pop and Contemporary Fine Art has relocated to its new home at the Shaw House, located in the heart of Orchard Road.

We aim to provide a more personal and bespoke service and only specialize in original paintings, limited edition lithographs, screenprints, etchings and sculptures in the Contemporary and Pop Art genres.

Many years in the art industry has helped to shape our philosophy and business ethos whereby we try to treat people in the way that we would like to be treated ourselves. We therefore aim to offer private and corporate clients the finest quality artwork and advice, thereby looking to ensure customer satisfaction.

Everything that we showcase in the gallery we actually own as this gives us much more control over the quality, care and pricing of these pieces.

We also offer additional services such as:

• Picture Rail Hanging solutions
• The sourcing of specific pieces of art on behalf of our clientele
• Fine artwork placement and selection consultancy
• Art Curating
• Art exhibitions both at our gallery and offsite
• Art talks and presentations

Our featured artists include Andy Warhol, Burton Morris, Keith Haring, Yayoi Kusama, Damien Hirst, Robert Longo, Robert Indiana, Roy Lichtenstein and Takashi Murakami. We are the sole representative of Burton Morris in Asia.

At Pop and Contemporary Fine Art we believe in trying to give back to the community, therefore we actively seek to hold an annual non-profit art exhibition, if possible, at a public venue. We feel that by hosting free exhibitions by top tier artists we can increase Singapore's exposure to the arts and by doing so try to improve the cultural fabric of Singapore in our own small way.

Should you require any further assistance or information or wish to explore potential partnerships then please do not hesitate to contact us. We look forward to hearing from you and serving you in the near future.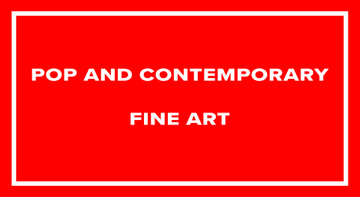 精選
Yen Phang Consolation
Artist: Yen Phang
Title: Consolation
Medium: Offset lithograph
Edition size 50
Year 2016
Size 29.7 x 42 cm
Additional notes: UNFRAMED
Born in 1979, Singapore, Yen Phang currently lives and works in both Montreal and Singapore. Yen's life changed drastically after being hospitalized and diagnosed with depression. It was during this period, that Yen's focus turned to art. His drawings and sketches began to be his only form of communication with the outside world.
A continuing thread in Yen's artwork are his investigations into the anxieties of everyday life, be it about how we communicate with each other, our relationships with nature in urban society or our understandings of perception.
His current series of artwork delves into the mind and expresses his inner most feelings. Yen's work can be perceived at times as dark and foreboding and at other times peaceful, serene and periodically even inspirational.
Consolation in this world can be a plethora of things to many people. To some it is their Grandmother's chicken soup, to others it is a warm embrace but for Yen it is in his artwork where he manages to find solace.
Created with the hope of giving comfort to all Yen presents this haunting new work.
查看更多